Wedding J & X | Wedding
J & X contacteerden Vannuchi Events voor de organisatie van hun huwelijk. Zij had reeds kennisgemaakt met Vannuchi Events via een artikel in het tijdschrift "Karaat".
J & X zijn zelf beiden zelfstandig en druk in de weer met hun werk dus het was de taak van Vannuchi om de zorgen en stress van de organisatie weg te nemen.
Thema: The Great Gatsby
Genodigden: 200 personen
Gevoel: Chesterfields & Chandeliers – Touch Of Gold – Fancy Cocktails
Invulling Vannuchi Events
Op 17 oktober werd in het hartje van Gent het huwelijk van J & X gevierd in volledige Great Gatsby stijl. De Oude Vismijn werd volledig omgetoverd tot een chique New Yorkse nightclub: zwart design meubilair, gouden barokken kandelaars, chesterfields, medaillonstoelen en impressionante kroonluchters kleedden het geheel aan.
De genodigden werden ontvangen met een cocktail served by Cocktailflavours en op de achtergrond zorgde een jazzband voor de aangepaste sfeer. De bruid is van België en de bruidegom van Argentinië, het was dus belangrijk om tradities van beide culturen samen te brengen in één feest. In Argentinië is het de gewoonte om na elk gerecht "een dansje te placeren", zo gezegd zo gedaan! Wij mochten rekenen op een top team van Catering Coeur d'Artichaut die het uitgebreide zittend diner verzorgde waaronder 2 voorgerechten, 2 hoofdgerechten, dessert en kaasbuffet.
Na het diner werd er ook een exclusieve whisky en gin-tonic bar geopend.
Een top dj uit het Gentse sloot dit Roaring Twenties event af met de nodige Glitter & Glamour.
Getuigenis klant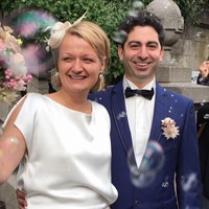 The Vannuchi crew are top professionals. For our wedding they built a party area in New York night club style of which our guests thought it was permanent decoration. The party atmosphere was great, service was great, all was super professionally organized. If you want to throw a high end party or event, you cannot go wrong with them. They have the expertise, the knowledge, in short: they know how to pull it off.
Joke & Xavier